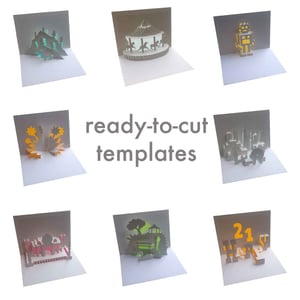 £

5.99
A large selection of fun and playful Origamic Architecture projects for you to cut and fold. New designs uploaded on a regular basis.
These are digital files for printing or cutting by plotter in PDF and SVG formats.
8 templates for £5.99 (just 75p / template)
16 templates for £7.99 (just 50p / template)
After purchase, message me with your choice of 8 or 16 templates from the LEARN section of my website: www.popupology.co.uk/learn and I will send you your selection by email in both PDF (for printing) and SVG (for plotter) formats ready to cut and fold.
A video tutorial is available for each design for helpful folding tips.
Please allow a few hours for your template selection to be sent.
Happy Folding!!!